0651 DO NOT STORE RAW AND COOKED FOOD TOGETHER X 2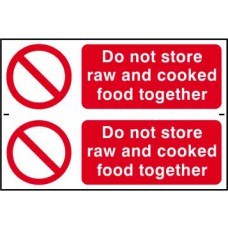 0651 DO NOT STORE RAW AND COOKED FOOD TOGETHER X 2
£7.00
Our standard range of safety signs are made from Self Adhesive semi rigid plastic and can be fixed to any flat surface, inside or out

200 x 300 mm semi-rigid plastic with a powerful self-adhesive backing,

2 signs per sheet, each measuring 150 x 200mm can be easily cut with sharp scissors or a knife.

4 signs per sheet, each measuring 100 x 150mm can be easily cut with sharp scissors or a knife.

Made from tough 0.65mm semi-rigid plastic.

Fully undercoated with a powerful adhesive.

Signs comply with health & safety.

Clear safety signs are essential to any workplace (safety sign supplier) to highlight any important information or potential dangers to employees.

From warning healthy and safety signs to construction signs, we offer a wide range of signs ideal to help prevent any accidents in the workplace.

We are a Safety Sign Supplier.

Our safety sign products are constantly being improved and updated and as a result we reserve the right to alter or amend our products.

All product sizes are subject to normal commercial tolerances and are shown in nominal form. Wherever possible, all safety signs shown on this website have been amended to display a technically correct ISO 7010 symbol.
Customer Reviews
This product has not yet been reviewed.