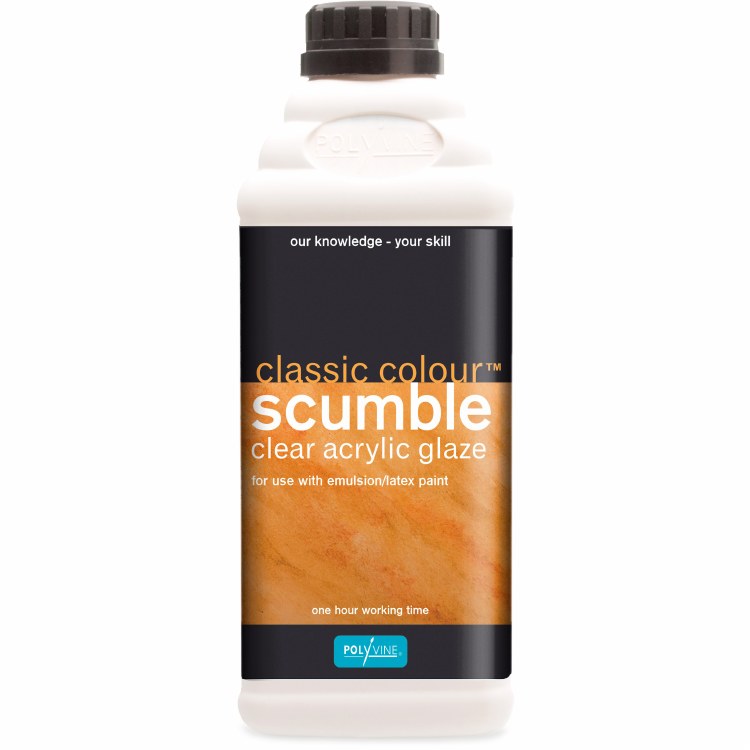 POLYVINE SCUMB CLASSI GLAZE 2L
£42.02
classic colour scumble
mix with emulsion
the only one hour working time glaze
An acrylic glaze which when coloured with satin or matt emulsion/latex can be used to produce semi transparent coloured paint effects.
For water and wear resistance, allow a minimum of 48 hours before protecting with Polyvine Decorators Varnish (gloss, satin or dead flat).

application

Select base coat colour in vinyl silk emulsion/satin latex. Apply base coat and allow to dry for a minimum of 24 hours with ventilation.
Colour your Classic Colour with satin or matt emulsion. In warm conditions, above 21°c/70°f or in low humidity mix 6 parts Classic Colour to 1 part emulsion. In cold conditions, below 21°c/70°f or in high humidity mix 4 parts to 1 part emulsion.
Test on a small area of the effect before application.
Brush or roller the coloured glaze liberally over the base coat. Create the desired decorative effect by breaking the surface with a crumpled rag, bag, sponge or a Polyvine tool or brush.
caution

Always test adhesion and the application of the effect on a trial area before starting.
Customer Reviews
This product has not yet been reviewed.