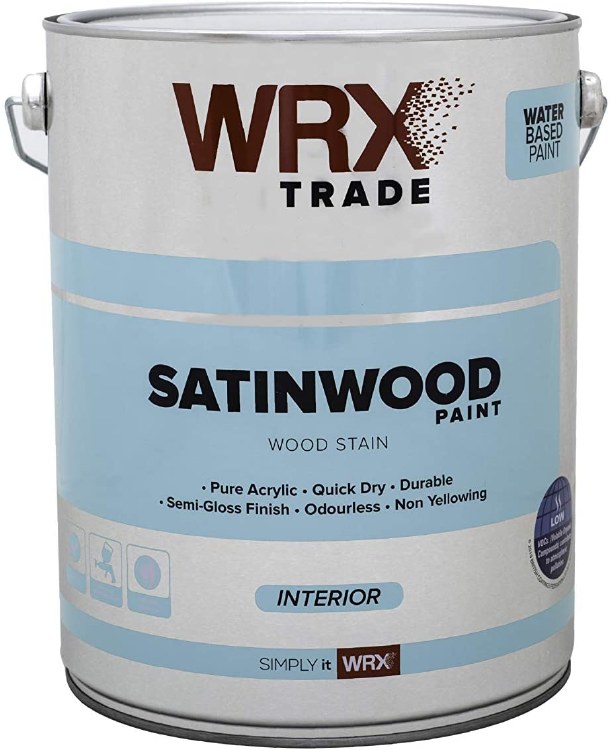 WRX SATINWOOD 2.5L BRILLIANT WHITE
£33.00
Satinwood Paint Water-based, acrylic emulsion based, semi gloss, covering and protecting topcoat satinwood paint. Ideal for panel doors and all sorts of wooden surfaces.

PREPARATION
The surfaces should be dry and free of any dirt, dust, oil, old paint residues and loose textures which cannot hold itself. It is recommended that wood stain be used on the raw surfaces to be painted for the first time. First, the surface should be sanded lightly and wiped with a damp cloth to remove any dust prior to painting. Best result can be achieved by applying the paint with a brush along the grain of the wood. All tools used should be cleaned with water.

SPECIFICATIONS
Perfect adhesion to all kinds of wooden surfaces with high level of hiding power. Free of cracking, swelling and peeling. It shows the natural texture of the wood. Contains no disturbing odour as it is water-based. Lead-free. Resistant to water, household chemicals and shocks. Non-yellowing paint

APPLICATION
Do not apply in damp or humid conditions or room temperatures below 10°C. Stir well before use. Ready to use. Mixing ratio for thinning is 5% maximum, if required. Suitable for application by brush or roller. For best results, load the brush generously. Apply paint evenly and avoid overspreading. 2 coats are recommended. Extra coats may be required if the colour change is strong.

COVERAGE
WRX Door&Trim will cover approximately 14-18 square metres per litre depending on the surface.

DRYING TIME
Touch dry in an hour under normal conditions. Allow 6 hours between coats. Through dry is 24 hours.
Customer Reviews
This product has not yet been reviewed.